This is the new beauty trend from Japan: Mochi Skin, in reference to the famous Asian dessert with a smooth, mat, and soft appearance. How to get a Mochi Skin? What are all the steps to follow? Who is it suitable for? We will explain everything to you.
The Far East is definitely the cradle of new beauty trends targeting facials. After Glass Skin, layering or even Dolphin Skin, make way for Mochi Skin, which highlights plump, silky, and mat skin, without any fine lines or dryness signs. In short, a baby's skin that will give you a youthful, healthy look, thanks to enhanced hydration.
What is Mochi Skin?
Mochi is a traditional Asian dessert very well known, especially in Japan, made from sticky rice paste, usually containing red bean or ice cream. Round in shape, it has a soft, smooth, matt, and very elastic appearance. Thus, this new beauty trend from the Land of the Rising Sun copies this dessert's characteristics, presenting plump, silky skin, without fine lines or shine. 
If the dullness of the face is essential to have the Mochi Skin effect, this trend emphasizes hydration, to be maximized upstream to provide a healthy base for the skin. For this, it is important to follow a series of beauty procedures, which are very similar to the Glass Skin routine, but for a totally different result. If glow and shine are the keys to a successful Glass Skin, Mochi Skin is distinguished by a matte and plain finish, without blush or highlighter, which would contrast the face.
How to get Mochi Skin?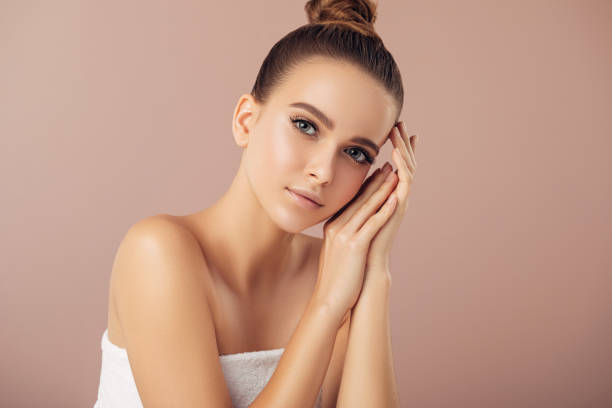 Want to succumb to Mochi Skin? Here are all the 6 steps to follow daily.
Double cleansing

: start your evening care routine with a first cleansing of the skin with the makeup remover of your choice (micellar water, oil, or milk) to remove your makeup, then continue with a gentle cleanser to remove all the impurities from the skin. 

Tonic lotion or essence

: To restore moisture that may have been removed during cleansing, run a tonic lotion or moisturizing essence on your face using a cotton ball or by tapping it with your fingers to stimulate blood circulation. This step is essential to clarify the skin texture to have a complexion as smooth as possible.

The serum

: this is the key to having a deeply nourished Mochi Skin. In order to have the specific rebound of this trend, we advise you to bet on a firming serum, containing softening peptides, hyaluronic acid, or even retinol. Vitamin C, very hydrating, is also to be favored in your serum.

The moisturizer

: opt for a cream with a light formula to seal in all the hydration layers already applied. For a perfect Mochi Skin rendering, bet on a cream containing ceramides that help the skin retain its hydration and protect it from environmental aggressors while keeping it soft and supple. 

Sun protection

: because the sun's rays promote the appearance of fine lines, which go against the smooth skin desired for radiant Mochi Skin, daytime sun protection is essential. The SPF cream is to be applied every morning after your moisturizer. 

Mattifying powder

: finally, after having properly hydrated your skin, apply mattifying powder to your face to obtain a soft and silky complexion, similar to the famous mochi.